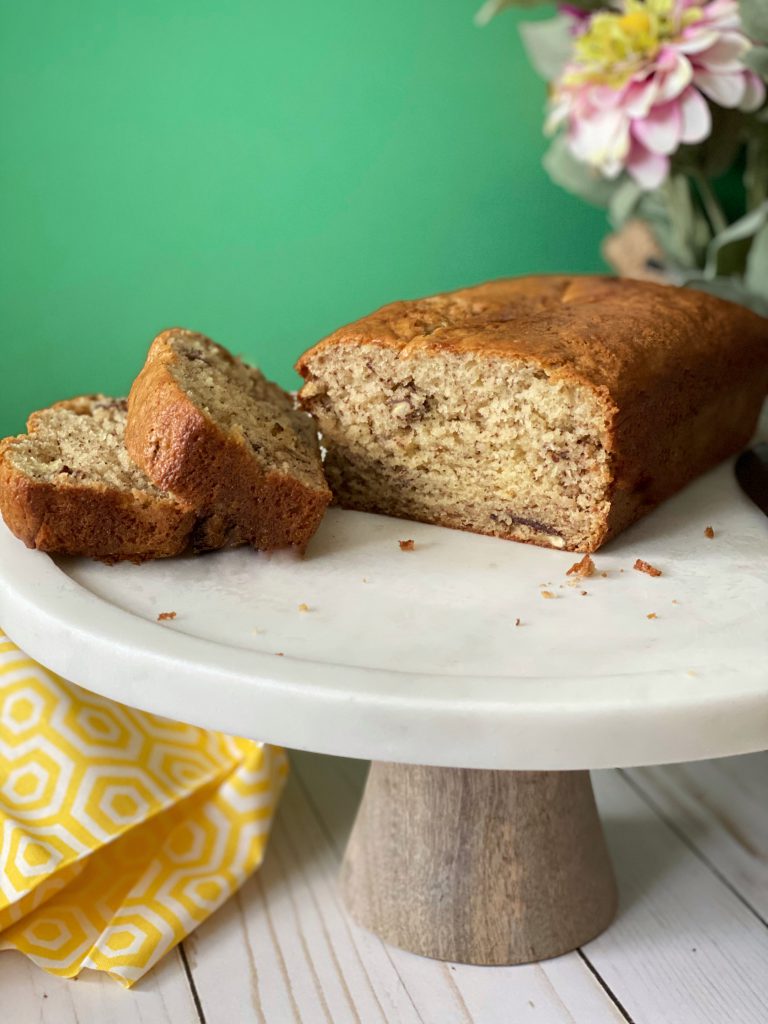 For Mother's Day I would normally want a cake. This year I just wanted my mother's banana bread. It's definitely a family favorite. Years ago, my mom's banana bread won first place in the Bake Off at the Ventura County Fair in California.
Mom still has her blue ribbon in her cupboard from the contest. The secret ingredient?… SOUR CREAM! Sour cream makes it moist and de-licious! 😋
My mom would give out banana bread as Christmas gifts to her friends. Everyone requested Jacquie's banana bread. It certainly doesn't have to be the holidays to eat this. It is simply good year round! During quarantine, banana bread seems to be a popular baked item by the amount of posts I've seen.
While I was in graduate school, I made this recipe a lot! When I had finals to study for or huge papers to write, banana bread was my go to for stress baking. My roommates, at the time, would ask me how I even had time to make banana bread when I had finals. I told them that's how I was able to get through finals. Working with my hands is so therapeutic and relaxing for me. Baking helped me to be more present with my 5 senses. It helped clear my mind. No, I didn't eat the whole loaf. I would eat some and then share with everyone else. Let's put it this way, no one complained if I made this.
So, here is the recipe. I hope you enjoy it. And if you try this recipe, I would love to hear your thoughts!
Warm Wishes!
Heather
Equipment Needed: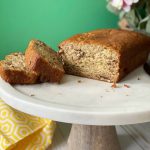 Print Recipe
The Best Banana Bread
My mother's banana bread won first place in the Ventura County Fair in CA years ago. It's a family favorite! Hope you enjoy it too!
Equipment
Mixer

Bread Pans

Mixing Bowl

whisk
Ingredients
2 cups all purpose flour, dip & sweep method* 290g
1 tsp baking soda 5g
1 tsp baking powder 4.9g
¾ tsp salt
¼ cup salted butter, softened half a stick of butter
1⅓ cups granulated sugar 226g
2 eggs
1 tsp vanilla
1 cup sour cream 8 oz. container
1 cup mashed ripe bananas About 2 bananas, 225g (whipped in the blender is best)
½ cup chopped pecans 56g
Instructions
Preheat oven at 350°F.

Prepare 2 medium bread pans (8.5 x 4.5) or 1 large bread pan. Spray the pans and put parchment at the bottom of the bread pan(s). Spray the parchment paper as well.

Take 2 bananas and whip them in blender to make 1 cup of mashed bananas. Set aside.

Chop the pecans to make a ½ cup. Set aside.

In a separate bowl, sift flour, baking soda, baking powder, and salt. (If you don't have a sifter, you can whisk everything together in a bowl.) Set aside.

In a mixing bowl, beat the butter on high speed until fluffy. (About 1-2 minutes.) You can use a hand held electric mixer if you don't have a KitchenAid.

Gradually add the sugar. Continue beating until light and fluffy.

Beat in eggs 1 at a time. Add vanilla.

Turn the mixer on low. Alternately add the flour mixture and the sour cream to the sugar mixture. (Start and end with the flour mixture. Alternate between 3 additions of the flour mixture and 2 additions of the sour cream.) Mix until incorporated.

Add the mashed bananas and chopped pecans to the mixture. Mix just until it's blended.

Pour the batter into the prepared pan(s).

Bake for 40-60 minutes. If you are using a non-stick dark colored pan, it usually cooks in 40 minutes or so. If using a light colored pan, it takes about 53-60 minutes. Regardless of what pan you use, it's good to check it at the 40 minute mark to see if it's done. Bake until a toothpick comes out clean.

Cool the banana bread in the bread pan for 10 minutes. Then turn it onto a wire rack to cool completely.
Notes
*Dip and sweep method: this means you take the measuring cup and scoop it into the flour and then level the top off evenly with the flat part of a knife.  This makes 1 large loaf or 2 medium loaves in a 8.4 x4.5 bread pan or 4 small loaves. This bread tastes even better the next day! You can freeze the bread for 1-2 months. Once the bread is completely cooled, wrap it in plastic wrap. Then wrap it in foil and stick it in the freezer.  Advice tip: The riper the banana, the sweeter the bread will be. If I have over ripe bananas, I like to peel them first, stick them inside a ziplock bag, and then place them in the freezer. They're much easier to mash that way rather than having to peel frozen bananas. If the bananas were frozen, I warm them up in the microwave so they are at room temperature rather than frozen when I add them to the batter. Enjoy!