Soft & Chewy Chocolate Chip Cookies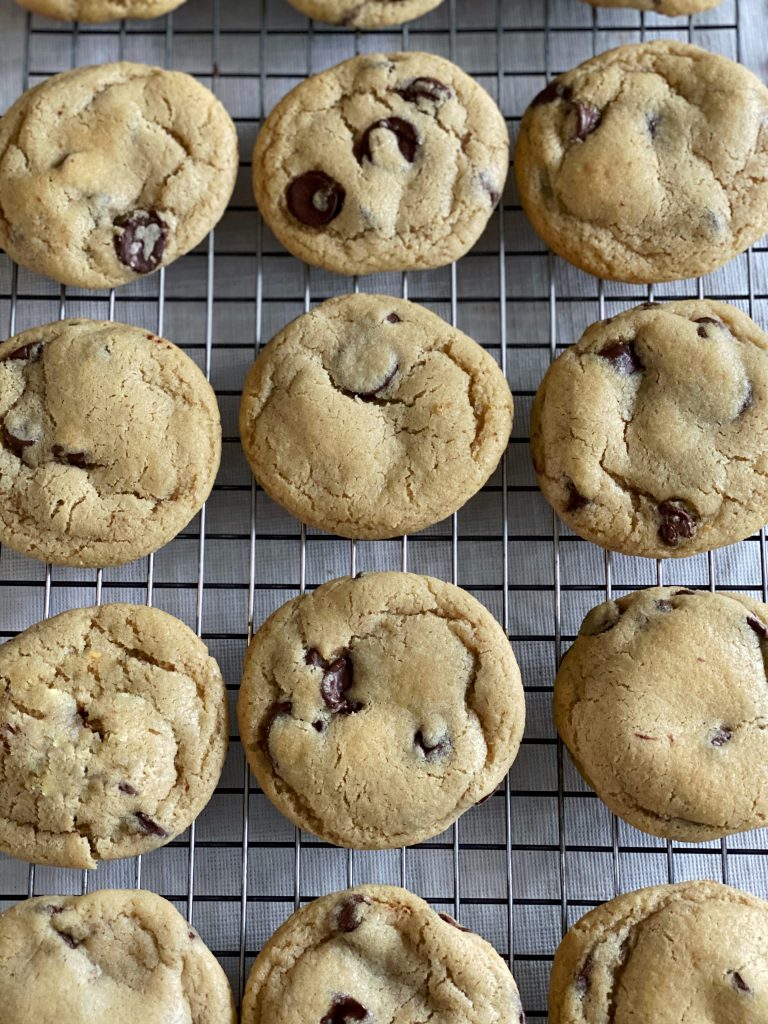 Are you baking more lately? I think the answer is yes! Or your neighbor definitely is. During this COVID-19 pandemic, the baking aisles at the stores have been cleaned out! I thought everyone was eating keto just 2 weeks ago. Apparently not anymore! 😂 I've been shocked at how hard it is to find baking powder. It's like entering a contest every time I go to the grocery store to see if I'll get what's on my shopping list.
Today, I'm sharing a delicious chocolate chip cookie recipe. My friend, Rachel Hampton, shared her amazing cookies with me. They were sooo delicious!!! The whole neighborhood loves Rachel's cookies! One thing I learned rather quickly is that nobody can make those cookies the way she can. She simply has the magic touch. And you know what's also amazing about Rachel? She is a colon cancer survivor!!
Rachel did share her recipe with me. This is the picture of the index card she texted me.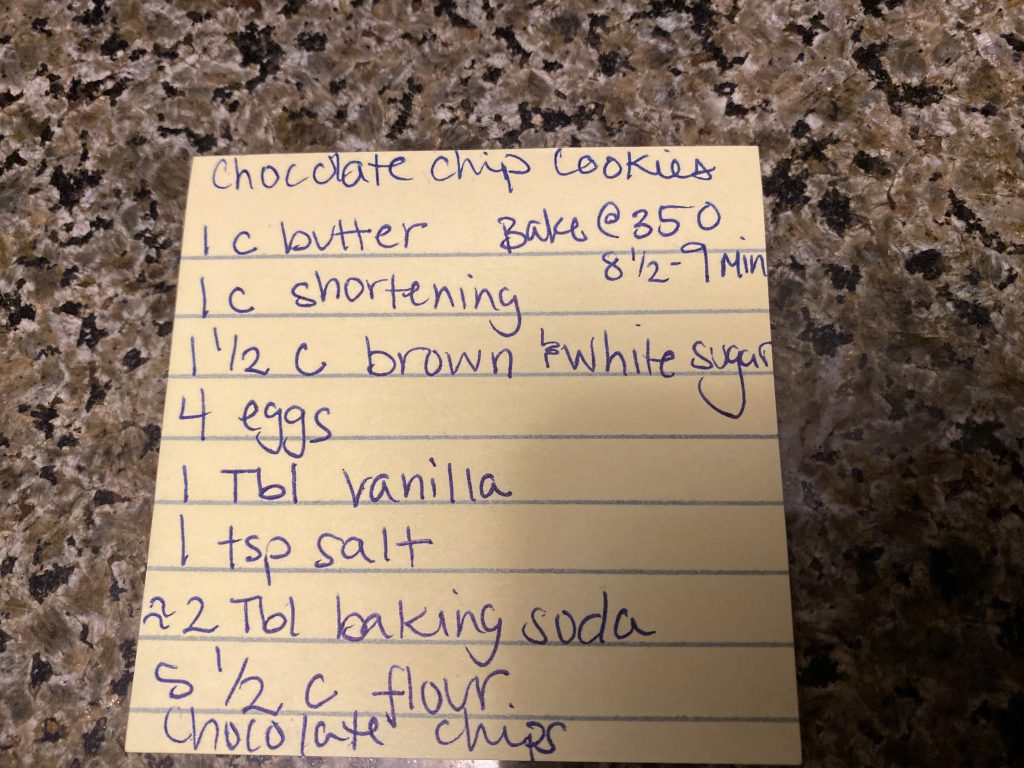 This is what happened on my first attempt. They went flat like pancakes. No, I didn't overmix the batter.
For my second attempt, I added more flour and more baking soda. They rose beautifully but they had way too much flour in them.
For my third attempt, I still added more flour and baking soda but not as much flour as I did the second attempt. My husband took a bite of one. The first thing that came out of his mouth was, "Those are good!" My husband is my toughest critic with my baking. So, with that said, here is a copy of the adapted recipe with instructions below. It's not the exact original recipe that Rachel has but we sure love these! She gave me permission to share.
I use all butter in this recipe. Rachel does 1 cup of shortening and 1 cup of salted butter. When I did use shortening, the cookies have a little smoother texture. It's like putting lotion on dry hands. Ha ha! I don't know how else to describe it. This recipe with all butter comes out the way you might see at a typical bakery with a little more texture. The baked cookies in the picture above have all butter in them. So pick either all butter or do half butter/half shortening and it's a winner! They are soft and chewy and mmmm…so good!
I collect a lot of chocolate chip cookie recipes. It really depends on the mood I'm in for which cookie recipe I choose to use. I have found that the METHOD of how you make the cookie dough makes all the difference in the world. I have tried many different methods from various recipes and have found this method to work. I will give very detailed instructions here.
I recommend reading the entire recipe first before you start making these. I did text Rachel each of the photos below of the cookie dough making process to make sure my cookie dough looked right. So, I highly suggest referring to the photos below in this blog to make sure you're on par with how it should look. Good luck my friends! Bake!!
Equipment needed:
After you've mixed the butter, sugars, eggs, & vanilla, it should look like this picture below.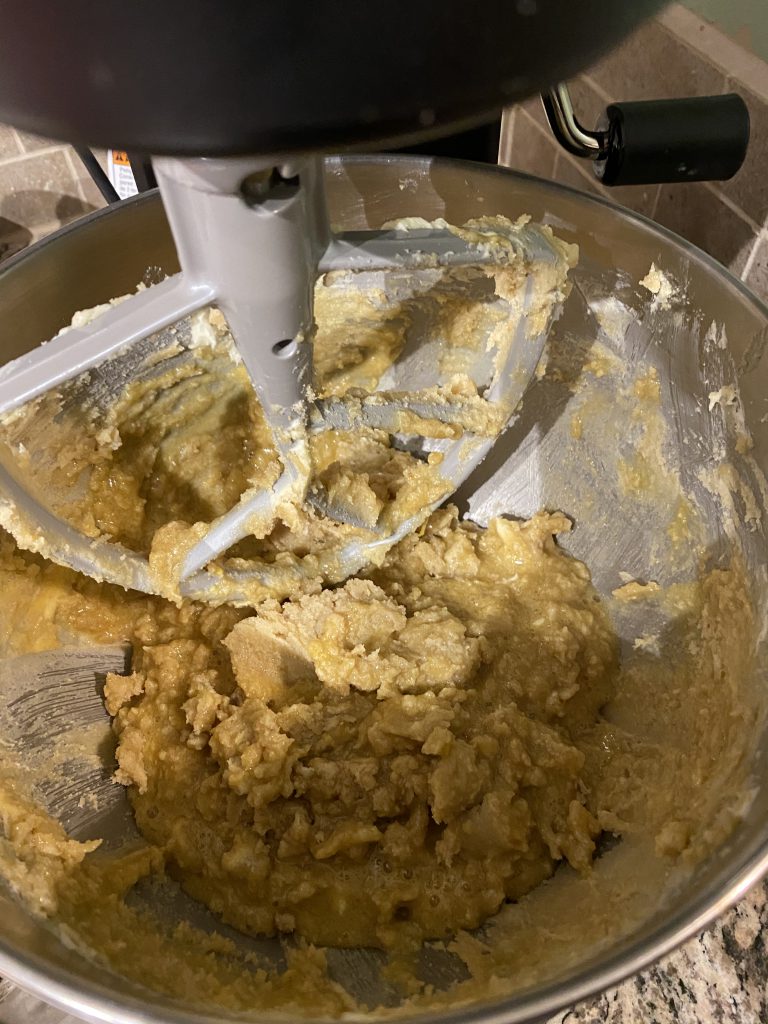 After you've added the dry ingredients, it should look like this below.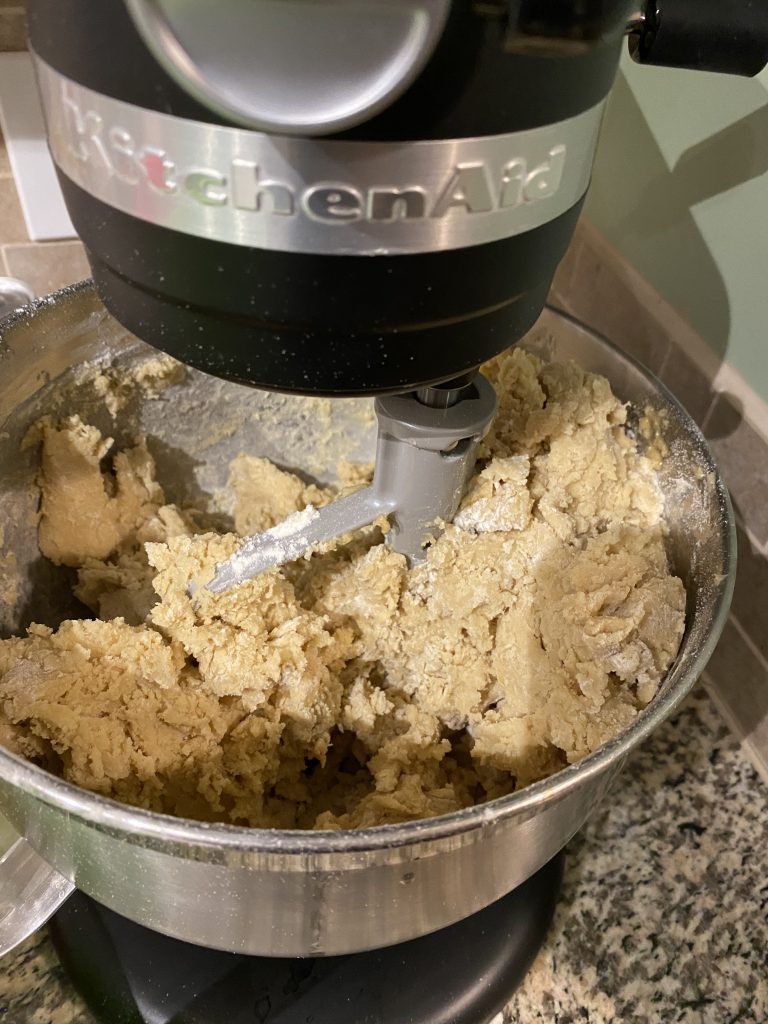 At this point, put on gloves (or wash your hands thoroughly for at least 20 seconds) and mix in the chocolate chips with your hands.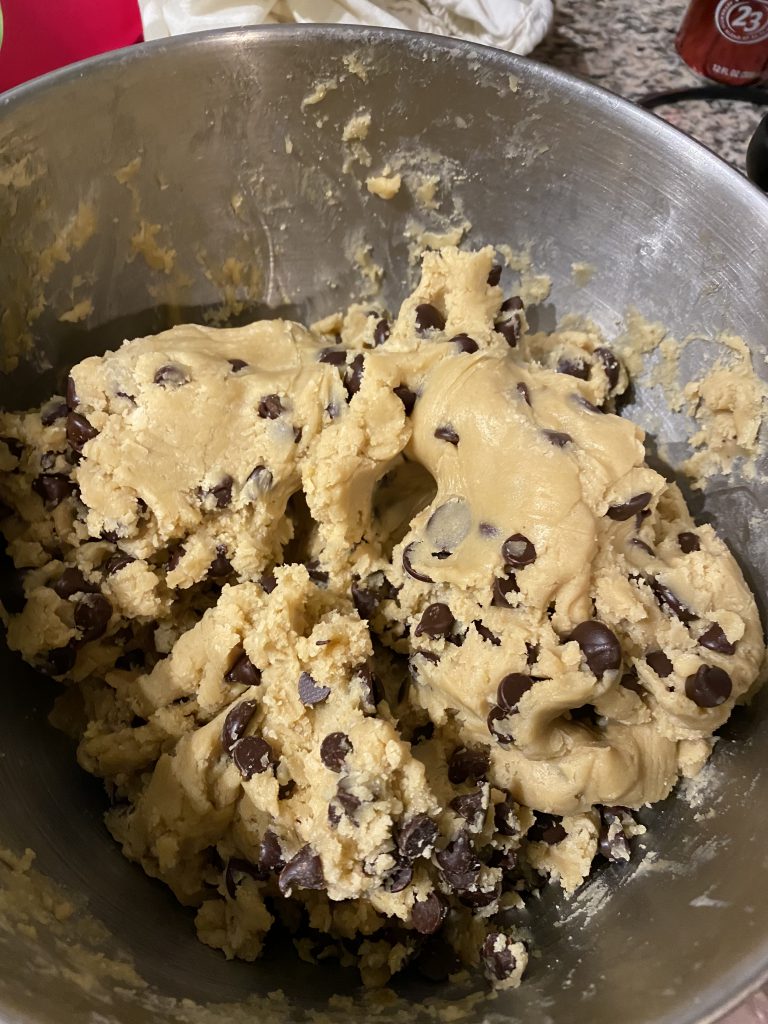 Enjoy!
Heather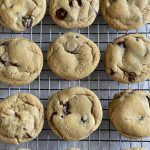 Print Recipe
Soft & Chewy Chocolate Chip Cookies
This recipe is inspired by my friend Rachel. Everyone in our neighborhood goes nuts for Rachel's chocolate chip cookies! However, no one can do it just like Rachel. So, I did some tweeks and came up with this version.

Servings: 60
Equipment
Mixer

Mixing Bowl

Scale

Measuring Cups

Measuring Spoons
Ingredients
1 tsp salt
2 Tbsp baking soda + 1 teaspoon baking soda (leveled spoons) 36 g total
6½ cups flour, dip and leveled method *943g
2 cups unsalted butter **close to room temperature
1½ cups white sugar 300g
1½ cups light brown sugar firmly packed, 320g
4 eggs
1 Tbsp vanilla extract
4 cups chocolate chips
Instructions
Preheat oven to 350°F

In a separate bowl, combine dry ingredients: salt, baking soda, and flour. Whisk together & set aside.

Cut butter into pieces (about 2 Tbsp each) and place in the mixing bowl. You can use either a hand held mixer or KitchenAid. I use a KitchenAid and power it on 2. If using a hand held mixer, set the speed on 3.

After a few seconds, add the white sugar, and brown sugar. Mix until creamy. Do not overmix.

Add vanilla extract & the eggs. Beat on low speed until just incorporated, about 10-15 seconds or so. Look at pictures in the blog above to see what it should look like. (If you beat the eggs for too long, the cookies will be stiff.)

While mixing on low, add the dry ingredients: flour, baking soda, & salt mixture. Mix until crumbles form.

Wash your hands or use gloves for this...Use your hands to press the crumbles together into a dough. It should form a huge ball. This stage is between wet and dry dough. Not too grainy from the sugar and not too stiff from the flour.

Add the chocolate chips and mix them in with your hands. (This prevents you from overmixing. Overmixing will make your cookies flat like pancakes.)

Place rounded tablespoons of cookie dough directly onto the cookie sheet.

Bake for 9-11 minutes until slightly golden brown. Do not overbake. Let them cool on the cookie sheet for at least 5 minutes.
Notes
Advice Tips: Preheat your oven with a thermometer for at least 20-minutes to ensure more even baking. Also, this will give you more of an accurate reading on the thermometer after 20 minutes.  Rachel does 1 cup of salted butter and 1 cup of shortening in her version. If you use shortening, it comes out more smooth, like the texture when you add lotion to your skin. She also adds the last cup of flour slowly to make sure it's not too wet or not too dry. Definitely look at the photos to see if your dough mixture is looking the same as the photos. Always read a recipe all the way through before you start to bake. (C'mon, that's what they really pound in us while watching "The Great British Bake Off.") *A cup of flour that is dip & leveled (145g) versus spooned into a cup (121g) will make a HUGE difference. This particular recipe calls for dipping your cup into the flour, and then level it off with a knife. I like to weigh my flour to get consistent results.  **To get close to room temperature butter: pull out the butter from the fridge and microwave it for about 12-20 seconds. Each microwave varies. You want the butter to be barely soft. Or if you'd rather not microwave the butter, pull out the butter from the fridge and let it sit out for 30-40 minutes. Again, you want the butter to be barely soft.  This recipe makes a lot of cookies, so you can half it!