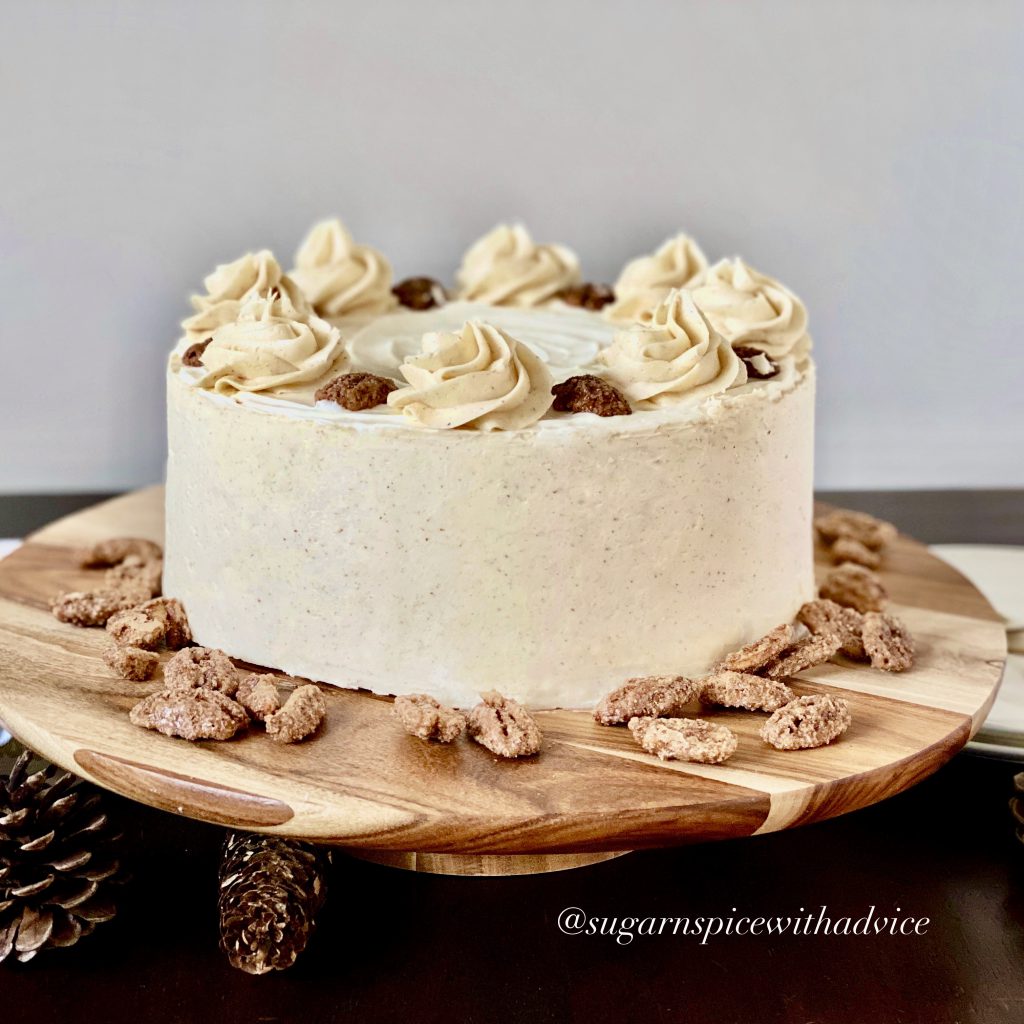 I hosted a cake tasting party. One of the fun things about this particular cake tasting party is that it was set up like a build your own ice cream sundae bar. However, instead of ice cream, it was with cake! There were several toppings, fillings, and frosting to pair the cake layers with. I had everyone vote on what combinations they liked best and that's how I was able to come up with different cake combinations. It wasn't just me having to sample–I had a room full of samplers who had fresh palates!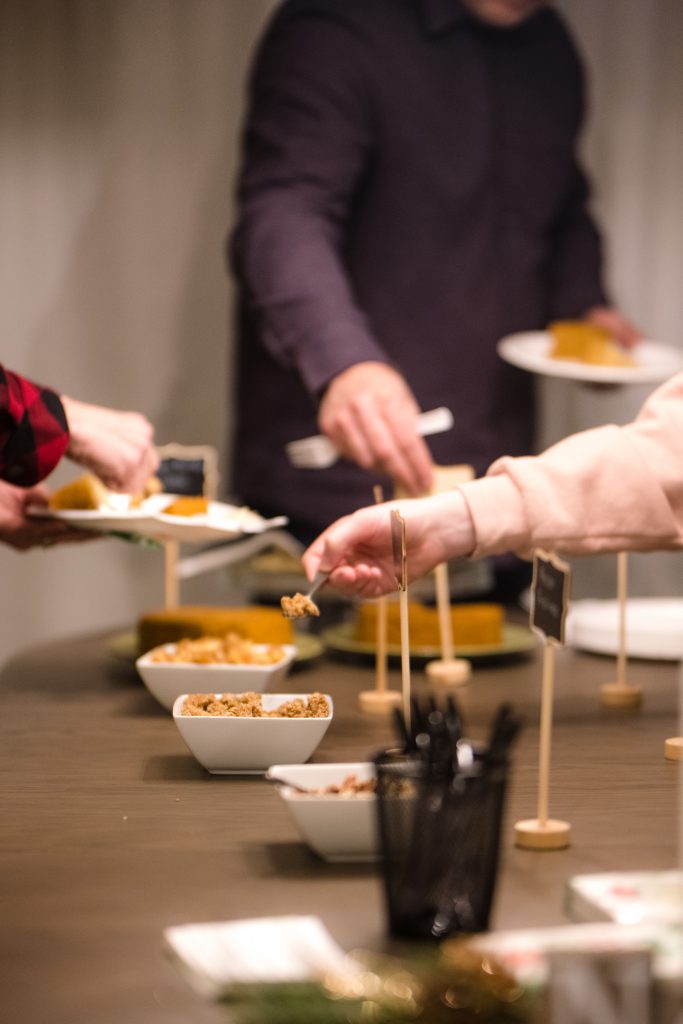 The brown butter cake was one of the two cakes that people tried. This was an absolute hit at the party! Brown butter anything is absolutely delicious!
This cake was inspired by a pastry chef in Canada. The original recipe is https://livforcake.com/brown-butter-cake/ And yes, I got permission from her to post this. 🙂
The challenge for us who live at high altitude is that we have to tweak recipes to get them to rise. I also adjusted a few things to the recipe. This recipe will work for those who are at sea level as well. It took me three attempts to get this just right. Swiss Meringue Buttercream is known for having a super buttery taste and less sugar. Most people in the U.S.A. are used to American Buttercream and not as much with Swiss Meringue Buttercream. I personally like frosting with less sugar. To cut that super buttery taste, I reduced the butter. So this Swiss Meringue Buttercream recipe is a happy medium for both types of buttercream.
Browning The Butter
Browning butter can be a little tricky. It can go from being done to being burnt really fast. Hopefully these photos will be a guide to help you out. A speedy method is to melt the butter in the microwave first. Next, pour in the butter into the saucepan that has a white or light color inside. This way you can see when butter color changes. Cook the butter on medium heat. There is no need to stir. It will start to boil and then foam.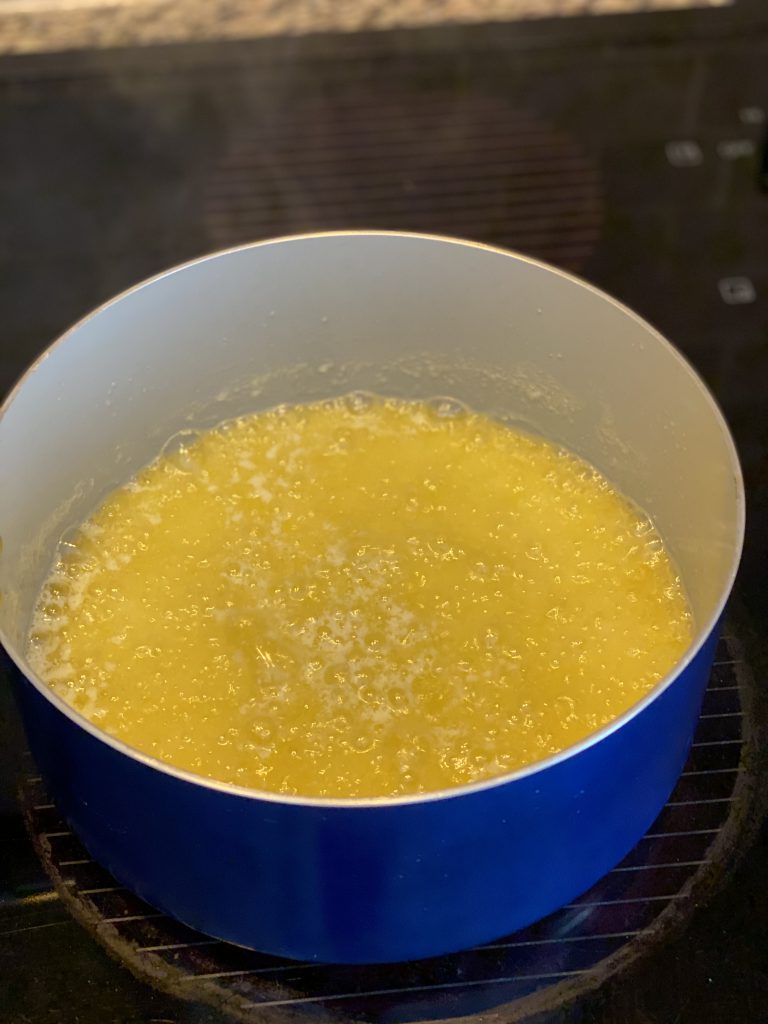 After you see the foam, stir it to see if the butter has turned brown. There should be brown specks at the bottom of the saucepan. You will also be able to smell the butter—it will have a nutty smell.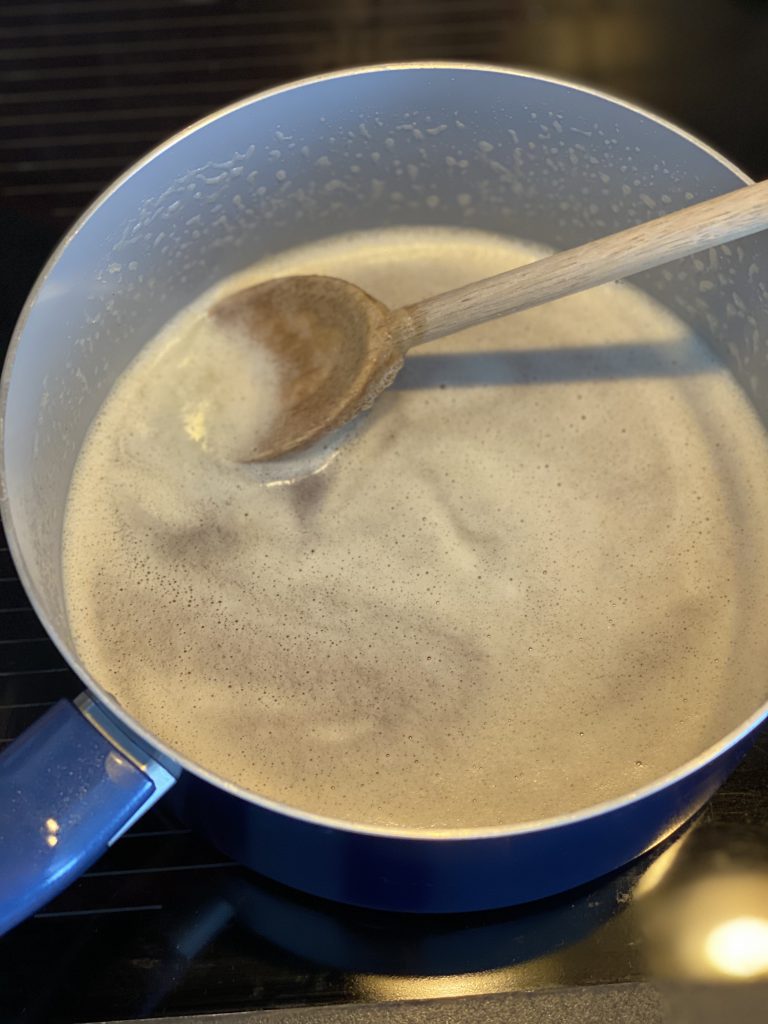 Pour the brown butter into a measuring cup and measure ¾ cup into one glass and another ¾ cup into another glass. Be sure to scrape the brown little specks into each portion. That is where the nutty flavor is!! 🙂 You will have a little extra brown butter. One is for the cake and the other is for the frosting. You can put the extra brown butter in the frosting. Once the butter is at room temperature, place it inside the refrigerator.
I usually the brown the butter one day and bake the cake layers another day. That way, I'm not standing on my feet too long. When you're ready to bake the cake layers, take the brown butter out of the refrigerator and let it sit until room temperature. Three to four hours is usually good. Get ready, set, bake!
Enjoy!
Heather Callister
Equipment needed for this recipe: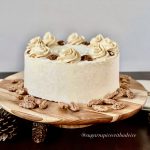 Print Recipe
Brown Butter Cake
Brown butter cake layers with brown butter swiss meringue buttercream.

Servings: 18
Ingredients
Brown Butter Cake
2¼ cups Unbleached all purpose flour spooned into the cup and leveled or (281.25 grams)Yes-unbleached all-purpose flour works best versus bleached.
2 teaspoons baking powder 9.86ml
¾ teaspoon salt 3.7ml
¾ cup brown butter room temperature, solid 170.25 grams
1 cup granulated sugar, minus 1 Tablespoon 187 grams
½ cup dark brown sugar firmly packed 106 grams
3 large eggs room temperature
1½ teaspoons vanilla extract 7.39 ml
1 cup buttermilk room temperature
1 Tablespoon water
Brown Butter Swiss Meringue Buttercream
6 large egg whites
2 cups granulated sugar 400 grams
¾ cup unsalted butter room temperature, cubed
¾ cup brown butter room temperature, solid 170.25 grams
1 teaspoon vanilla extract 4.93 ml
1 pinch of salt
Instructions
Brown Butter*
Place 2 cups of butter into a large, light colored sauce pan. Cook the butter over medium heat. You don't need to stir it. Just let the butter melt and cook. It will start to boil and then foam. After you see the foam, stir the butter to see if it's turned into a light brown color. You should see brown specks. You will also be able to smell the butter-it has a nutty smell. Pour the brown butter liquid into a measuring cup. Measure out ¾ cup portions into two separate containers. Make sure you scrape out the brown butter bits for each portion. You will have a little extra brown butter. Just use ¾ cups for each portion. One is for the cake and the other is for the frosting. Let it cool to room temperature and solidify. Once the butter is at room temperature, you can place it inside the refrigerator. (I usually brown the butter the day before or a different day than when I bake the cake layers.) Be sure to bring the butter to room temperature after you take it out of the refridgerator when you're ready to use it. (4 hours outside the fridge is good.)
Brown Butter Cake:
Preheat the oven to 350°F. (I use an oven thermometer and let it heat for 20 minutes to ensure accurate, even heating. I don't use the convection setting-that will cause the cake to dry out. I use an old oven and that's what this recipe is based on-traditional ovens.) Spray two 8" cake rounds and place parchment paper at the bottom and then spray the parchment paper. If you don't have parchment paper, spray and flour the pans.

In a medium bowl, whisk the following: flour, baking powder, and salt until it's well combined. Set the bowl aside.

Use a stand mixer with the paddle attachment. Cream the following on medium-high until pale & fluffy-about 3 minutes: browned butter, white sugar, and brown sugar.

Reduce the speed to low (1 or 2 on a Kitchen Aid) and add eggs one at a time, fully incorporating after each egg addition. Add the vanilla.

Add 1 Tablespoon of water to a cup of room temperature buttermilk. (I usually measure 1 cup of buttermilk and set it aside 1 hour before I need to use it to get it to room temperature.)

Alternate adding the flour mixture and buttermilk mixture, beginning and ending with the flour. (Do 3 additions of flour mixture and 2 additions buttermilk mixture.) Fully incorporate after each addition. DO NOT OVERMIX.

Divide batter evenly between two 8" round cake pans. Bake for 31-34 minutes. Ovens vary. Bake until a toothpick comes out mostly clean (a few light crumbs on the toothpick).

Place cakes on wire cooling wrack while they're still in the pan. Let them cool in the cake pans for 10 minutes. Then flip them over out of the pans onto the wire wrack. Allow them to cool completely before frosting.
Brown Butter Swiss Meringue Buttercream:
Wipe down the bowl of your stand mixer with vinegar or lemon juice to ensure there is no grease in your mixing bowl. (If there's grease in the bowl, the meringue will not work as well.) Place egg whites and sugar into the bowl of a stand mixer. Whisk until combined. Be sure there is no trace of egg yolk in the whites-again this will not allow the meringue to puff up.

Place the mixing bowl over a double boiler on the stove. Whisk constantly until the mixture is hot and no longer has a grainy touch. (Usually about 160°F on a candy thermometer). To see if it's no longer grainy, take a tiny bit from a spoon, blow on it to cool it, and then feel it to see if it feels grainy.

Place the bowl on your stand mixer with the whisk attachment. Beat it on medium-high until the merigue is stiff and cooled. (This can take anywhere from 10-20 minutes). The mixing bowl should no longer feel warm to the touch.

Switch to the paddle attachment. Slowly add the cubed butter one at a time. Add the brown butter 1 Tablespoon at a time. Mix until smooth.

Add a pinch of salt.

Add vanilla. Whip until smooth. The frosting may look curdled. Keep going!!! Keep mixing until it's completely smooth. If it's too runny, you can refrigerate it for 20 minutes and then whip again.
Assembly:
Level your cake layers if necessary to ensure even stacking when you assemble the cake. Place one cake layer on a cake stand or servinge plate. Place 1 cup of buttercream on the cake layer and spread evenly.

Place the second cake layer on top. Apply a thin coat of frosting to crumb coat it. Chill in the freezer for 10 minutes or 20 minutes in the refrigerator.

Frost and smooth the entire cake. You can also use the Wilton 1M tip to pipe swirls on top. It's also delicious with candied pecans on top. Enjoy!!!
Notes
Tips: To get consistent results, I always weigh my flour and sugar. I usually do this recipe in steps, so I'm not on my feet too long. I brown the butter one day. I bake the cake layers another day. I wrap them twice in plastic wrap and place them in the fridge. Or if it's going to be a bit, you can stick them in the freezer up to 1 month. I recommend after you double wrap the cake layers in plastic wrap, to also wrap them again but with foil. To thaw the cake layers, I take them out of the freezer and thaw them for 1 hour before I decorate. I usually make the frosting the same day I'm going to decorate the cake. If you decide to make the frosting ahead of time, cover the bowl of frosting and stick it inside the refrigerator.  You can re-whip the frosting for a few minutes before decorating the cake.